Album Review of "Aliens, Astronauts and Asteroids!"
by Jason Didner, Jungle Gym Jam Music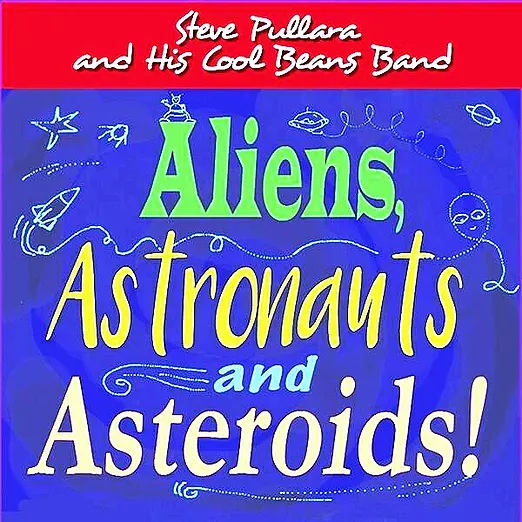 This space-themed album by Steve Pullara and His Cool Beans Band clearly has the right stuff! The song lyrics present a conversation, not a lecture. Synthesizers embellish Steve's signature rustic roots-rock sound, adding to the not-of-this-Earth setting central to the album's theme. Musical styles range from old-school Johnny Cash country to reggae, ska and new wave.
There's something for multiple age ranges of youth on these tracks. Largely, the lyrics ask questions and spark curiosity. School-age children will get a laugh from the gross-out factor of "Blow Your Nose in Outer Space." Pre-schoolers will spin themselves dizzy to "Spin like a Satellite" if given a little encouragement. For me the highlight was "Mission Control" with its important message that it takes teamwork to make great things happen, including behind-the-scenes teammates who don't make the headlines.
"Splashdown," with its callbacks to references in other songs, really speaks to the importance of a work having a theme and the reason we'd lose something if we all switched from making albums to only making singles. The presence of synthesizers throughout the album also ties the theme together.
This album is available for streaming and download on all major music platforms. I recommend this album for kids of all ages and their grown-ups.